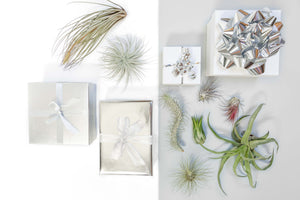 The Gifts That Keep Giving
Shop Unique Gifts, Holders & Décor
Your Source for All Things Air Plant
From hard-to-find Tillandsia, to bulk and wholesale air plants, to gifts and terrariums, favors, and more – we're happy to bring you the highest quality plants and exceptional customer service. Receive free, fast shipping for all orders over $75.
Planning an event?
Wholesale & Bulk Air Plants
Recieve discounted pricing for orders of 12 or plants, containers, terrariums or vessels.
Shop Wholesale
Our Mission is to provide our loyal customers with a great selection of competitively priced air plants, terrariums, natural displays, wholesale/bulk finished product, rare plants, and more!  We offer a 30 day guarantee on our plants so you can shop in confidence knowing we ship healthy beautiful plants that we stand behind.  We offer FAST shipping and orders $60 over ship for FREE!  We make buying air plants easy even for beginners with our Air Plant Starter Packs that include a unique collection or air plants in variety of shape, sizes and textures.  We even include an 8oz fertilizer bottle to keep your plants looking happy!
Dedication to our customers goes way past our first sale, as we strive to be your source for all things Air Plant! Our extensive Air Plant Care section has articles detailing topics like How to Water an Air Plant and Air Plant Care 101.  We also dive into individual tillandsia spotlight articles where we highlight different species and talk about their origins and native habitats.  Having trouble with your current air plants?  We also have a section where we discuss common air plant questions as well as an article "what is wrong with my air plant?" where we talk about common ailments.  But don't worry, every order comes with an air plant care card that helps outline how to care for your new plant babies!